Mana Structural Integration Training (IASI affiliated)
the Mana SI training is a person-centred approach to teaching the evolving work initiated by Ida P. Rolf with the intention of nurturing the art of embodiment.
Structural Integration and Myofascial Release Skills Classes
A range of classes covering techniques and information to support therapists and teachers practising massage, structural bodywork and SI, Pilates, Yoga and fitness training. Current classes in NZ and Europe.
Introduction to Watsu, Integral Aquatic Therapy & aquatic Structural Integration
Integral Aquatic Therapy and Watsu are gentle and effective forms of body therapy and rehabilitation performed in warm water( 35 degrees C.). They combine elements of soft tissue manipulation and massage, joint mobilization, trigger point therapy, stretching and positional release all woven seamlessly into a beautiful sequence of fluid movements.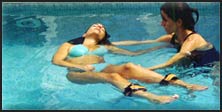 Sweatlodge at Mana
the sweat is a healing ritual of the north and central american native tradition. It is a unique experience offered at Mana near the solstice and equinox times.
Mana Inner Warrior Mens Empowerment Progammes
The 4-day Mana Mens Retreats have been inspiring, initiating and nourishing men for over 25 years.
The Heart of Tai Ji and Meditation Retreat and Classes
integrating traditional Yang style Tai Ji of Master Huang Sheng Shyan, with meditation, Qi Gong and functional awareness. Sol teaches Thursdays 10 am in Coromandel town and retreats at Mana
Structural Awareness and Yoga, Facial Fitness and Yoga - classes with Sol Petersen
In a yoga practice developing mindfulness as well as awareness of basic structural principles helps us to reduce effort and increase our ease and suppleness. The classes in NZ and Denmark for 2015/16 have not been scheduled yet. Sol presented Fascial Fitness and Yoga at the 2015 Yoga Festival at Kawaipurapura near Auckland